Sale
Sunrise Eco-Pro – Radiant Panel
£251.63 inc. Vat
Our Digital Sunrise Radiant Panel Heaters provide wraparound heat all-year-round bringing summer warmth into your conservatory even on the coldest days.
Boasting compact and slimline proportions, this fully programmable wall-mounted electric conservatory panel heater has been designed specifically to fit dwarf walls in conservatories.
The 1250w Sunrise heater offers easy installation and low running costs.
Great for low walls – only 280mm high
Digital control for lower consumption
Manual mode or fully programmable
Advanced mica-thermic element
DIY installation with fitted plug
For a warm and comfortable environment in your conservatory, buy your Sunrise electric radiant conservatory panel heater now!

Description
Quiet in operation, they heat up quickly and are controlled with a precise digital thermostat to give optimum energy-efficiency so that you don't have to worry about expensive energy bills.
The Ducasa Sunrise utilises 'long wavelength radiant' technology to produce a fast acting comfortable form of heat that feels like the sun. Unlike traditional convection heaters, radiant heat gently distributes warmth throughout the room providing a more even temperature
At only 280mm high the Sunrise is perfect for low level conservatory walls and other rooms where wall space is restricted. Both the grille and back casing are produced from high quality steel making this a product strong and durable.
The Sunrise has a large LCD screen and simple + / – temperature control for ease of use. With digital control incorporating highly accurate thermostats, 'room overheat' is reduced which helps keep running costs down and improves comfort levels.
With a choice of Comfort, Economy and Frost Protection temperatures, which can all be set to suit your needs.
An optional 'Eco-Start' adaptive learning feature calculates the optimum time to switch on the heater to achieve your required room temperature at your chosen time. This together with Open Window Detection and a super accurate PID thermostat helps provide a comfortable environment and keep running costs to a minimum.
Fitting is easy, and you can do it yourself. Just attach the panel to the wall and plug into the nearest socket with the fitted UK 13 amp plug.
Dimensions: Size(mm) L:1203, H:280, D:70
Advanced mica-thermic radiant technology
Designed to fit low level conservatory walls
Digital thermostat for reduced running costs
24/7 Programming with Comfort, Eco & Frost
Manual temperature over-ride with auto reset
Eco-Start Adaptive Learning
Energy saving open window detection
Temperature compensation thermostat
Large LCD screen and simple controls
Fast acting and comfortable heat
Does not dry the atmosphere or burn dust
Ideal for asthma sufferers
Slimline design and wall mounted
Durable steel grille construction
1.8M cable with fitted plug
DIY installation
Thermal cut out safety device
Class II Double Insulated Protection
Lot 20 and CE Approved
Colour: RAL 9010
Radiant heat is widely regarded as the most comfortable, healthiest and most natural form of heating available today - perfect for conservatories.

Unlike traditional convection heaters, radiant heat gentle distributes warmth throughout the room providing a more even temperature.
Radiant heat is also unaffected by draughts making it the efficient choice for areas with large window space, such as conservatories.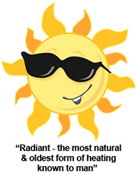 The best and well known example of a radiant heater is the sun. The sun's rays travel through the atmosphere heating object such as people and furniture providing almost instant, comfortable warmth.
As it does not rely on air being forced over a very hot element, the humidity levels are unaffected and the movement of airborne particles, such as dust, is reduced, making the air quality much cleaner, especially important for asthma and allergy sufferers.
Our radiant heaters are designed to replicate the wavelength of the sun for maximum comfort, unlike cheaper short wavelength or infra-red heaters which can feel harsh and unpleasant.
A tried and tested technology, Ducasa electric radiant panel heaters and electric radiators are fitted in over 35,000 conservatories across the UK.
How Many Heaters Will You Need?
To ensure your conservatory is warm and comfortable all year round it is important to fit the correct size and number of heaters.
With a newly built conservatory, it may be possible to calculate the heat loss with U-values which are a measure of insulation and then calculate the wattage required, however it is still necessary to decide the best place to install your heaters.
As most people do not have the U-values of their conservatories we have put together the following guidelines to help you decide which heater to buy.
First work out the size of your conservatory by measuring the length and width then multiply the two numbers.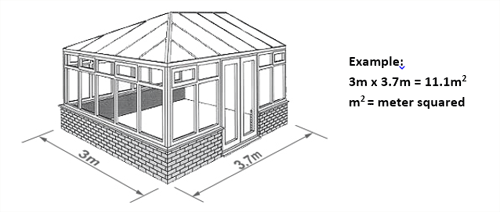 When you know the size, simply choose the box below which best describes your conservatory and multiple the size by the wattage required.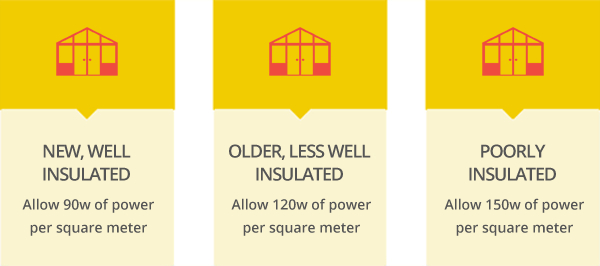 Example: 11.1m2 x 90w (new conservatory) = 999w
Next choose the heater model and the wattage which best suits your requirements. It's unlikely our heater wattages will match your requirements exactly, so always best to choose the next size up. All our heaters have thermostats which will switch off the heater when the room is warm enough, so running costs won't increase.
Still unsure what size or model of heater to choose? No problem - call the team at Conservatory Heating - a family business with over a decades experience and here to offer friendly, free and honest advice.
Call Today on 0845 300 9064 or Click Here to Email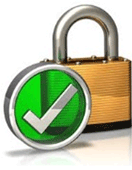 Ordering from our site is quick, easy and importantly secure!
When you've decided what model and size of heater, select the quantity required and simply add it to your basket. Once you've finished shopping view your basket to check your order then click 'Proceed to Checkout'.
In the checkout enter your billing address and shipping address if different then click 'Pay securely with SagePay'. You will then be taken to the SagePay website to enter your credit or debit card details.
We recognise that security is one of the major concerns for the shopper during an online transaction. So we have chosen SagePay as they use state of the art security tools and techniques to ensure that you are protected against online fraud. With 26 million transactions processed each day you can rest assured your card details are safe and secure.
When payment has been made you will receive a payment confirmation email and be returned to our website. We will send you another email when we process your order and another when it's despatched.
Free Shipping On All Orders
Order your heater before 2pm, Monday to Friday and we will despatch the same day on a 24 hour service.
Standard deliveries are made Monday to Friday so if you order on a Friday, delivery would be on Monday. Order over the weekend and we will despatch on Monday for a Tuesday delivery.
For an additional charge we can arrange delivery before noon, before 9am or on a Saturday, please call us on 01603 891 230 for costs of these options.
Provided you supply a mobile number you will receive a text when your heater has been loaded onto the van for delivery and advising you of a one hour delivery slot. Alternatively, you will receive an email the day before delivery which gives you the option of re-arranging the delivery for a different day.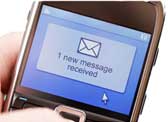 If for any reason you are not at home when delivery is attempted, the driver will try to leave your heater with a neighbour. If your parcel is left with a neighbour or taken back to the depot, the driver will place a card through you door explaining what to do.
For your convenience we can deliver to your home, designated neighbour or your work address; however we cannot leave your heater without a signature.
Please Note: In some areas such as the Scottish Highlands delivery can take 48hr. Things occasionally go wrong so we can't guarantee the time it takes for deliveries but we can guarantee we do our best to ensure they arrive when expected. For deliveries to the islands please contact customer services.
"The Sunrise is well suited for installation on a conservatory wall. It looks good in situ and provides all the instant heat we need for sitting in there when temperatures are low"
H. M
"We got the Sunrise on recommendation from a relative. It looks so much nicer in the conservatory than the other heater we had."
Mr. S
"It's nice to have after-sale customer service as you don't often get that nowadays"
P.S
"I bought because of the frequency of very good/excellent reviews and the very pleasant and helpful attitude of your staff on the telephone. An excellent end to end experience"
M.A
"I just wanted to say thank you very much for all your help with our conservatory heater. Excellent customer service."
Mrs. S.W
"Thanks very much for all your help. I installed the Sunrise yesterday and it is working very well."
P.D
Frequently Asked Questions